"Dress You Up" is a song by American singer Madonna from her second studio album Like a Virgin (1984). It was released on July 24, 1985 as the album's final single, by Sire Records. The song was the last track to be added to the album as it was submitted late by songwriters Andrea LaRusso and Peggy Stanziale. Madonna pushed for the song's inclusion on Like a Virgin as she particularly liked its lyrics. Musically, the song is a drum beat driven dance track featuring instrumentation from guitars and vocals from a choir and a guitar solo played by Nile Rodgers, who also produced the song. The lyrics are an extended metaphor for fashion and sex, comparing dressing up with passion. A live performance from Madonna's first tour was used as the music video.

Critics reacted positively to the dance-pop nature of the track. "Dress You Up" became Madonna's sixth consecutive top-five single in the United States. It also reached the top-ten in Australia, Belgium, Canada, Ireland, New Zealand and the United Kingdom. The song was performed on four of Madonna's concert tours, most recently on the Rebel Heart Tour (2015–16).
Powered by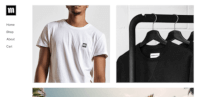 Create your own unique website with customizable templates.