"Young and Beautiful" is a song by American recording artist Lana Del Rey used for the soundtrack to the drama film The Great Gatsby (2013). It was released on April 23, 2013 by Interscope Records as the lead single from the record. "Young & Beautiful" was co-written by Del Rey and the track's producer, Rick Nowels (with an uncredited assist from director Baz Luhrmann). Contemporary music critics lauded the single, calling it "haunting" and "somber". Lyrically, "Young & Beautiful" follows a young lover's apprehension about whether love can last. A music video, directed by Chris Sweeney and filmed by Sophie Muller, was released on May 10, 2013. The song was used in commercials to promote the new season of the MTV reality show Catfish.

A moderate chart success, "Young & Beautiful" reached the top ten in Australia where it was later certified platinum by the Recording Industry Association of America (RIAA). It was also top 10 hit on Serbian airplay chart, peaking at number 9. In May 2013, the song broke into the Billboard Hot 100; it peaked at 22 on the chart, making it Del Rey's highest peak since "Video Games" peaked at 91 in 2012.
Powered by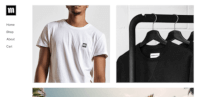 Create your own unique website with customizable templates.