"Ironic" is a song by Canadian-American singer Alanis Morissette. It was released in February 1996 as the third single from her third studio album, Jagged Little Pill (1995). It was written by Morissette and Glen Ballard, and was produced by him. "Ironic" is a pop rock song written in the key of B major, and includes a moderate tempo of eighty-two beats per minute. The lyrics present several situations that are described as "ironic". This has led to debates about whether any of the situations match the accepted meaning of irony.

The track topped the Canadian RPM Top Singles chart for six weeks, and reached the top five in Australia, New Zealand and Norway. In the United States, the song reached number four on April 13, 1996, and currently is her highest-charting single on the Billboard Hot 100. "Ironic" was certified gold by the Recording Industry Association of America (RIAA). The song won the Juno Award for Single of the Year, and received two Grammy Award nominations in 1997, for Record of the Year and Best Short Form Music Video. French director Stéphane Sednaoui filmed the music video. In it, Morissette drives through a winter landscape, and she plays multiple roles as her passengers. MTV nominated the music video for six MTV Video Music Awards in 1996, winning three of them. The music video was listed on VH1's "Greatest Music Videos" list and was parodied by Allison Rheaume and "Weird Al" Yankovic.
Powered by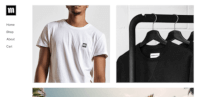 Create your own unique website with customizable templates.