Madonna's corset is the best iconic outfit!
The legendary corset made by Jean Paul Gaultier for her muse Madonna has been voted as best iconic outfit in history of music. Madonna has used this costume during her controversial ''Blond Ambition Tour'' in 1990, but she has often reinvented the outfit in the following years for other occasions (MDNA tour). This corset, along with Marilyn Monroe's white dress, is probably one of he most recognizable feminine outfits of the past century.


Top10 of the poll:
#1

Madonna

- J.P. Gaultier corset 1.373 votes
#2 Michael Jackson - 'Thriller' costume 971 votes
#3 Freddie Mercury - Wembley's costume 701 votes
#4 Geri Halliwell - Brit Awards costume 407 votes
#5 Cher - 'If I Could Turn Back Time' outfit 205 votes
#6 Elvis Presley - American Eagle suit 177 votes
#7 Lady Gaga - Meat dress 126 votes
#8 Britney Spears - 'Baby One More Time' costume 103 votes
#9 Cyndi Lauper - Red dress 36 votes
#10 Annie Lennox - 'Sweet Dreams' costume 25 votes
Powered by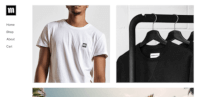 Create your own unique website with customizable templates.